It's time to embark on an Alien Adventure…
Brought to you from a planet far, far away, our theme for Sketching Stars 2020 is: Alien Adventures.
This year's competition will challenge pupils to imagine and design an alien friend for Noris Colour — who will join him as he embarks on a journey through outer space.
To be in with a chance of winning a bundle of amazing prizes, children from across the UK will need to use colouring pencils and a tonne of imagination to bring their alien design to life.
With creative competition sheets offered alongside a series of STEM bonus activities, this year's campaign aims to showcase how maths and science can go hand-in-hand with creativity, to prepare primary school pupils for a promising future career.
To enter your class, all you need to do is sign up as a Teachers' Club member (it's completely free!) and download the KS1 and KS2 competition sheets.
If you're after some more extra-terrestrial fun, why not take a look at our bonus activities? All available via the Members' Area and on our YouTube channel, they include additional classroom challenges and digital learning resources — all in an outer-space theme.
We understand that due to Covid-19 things might be a little trickier this year — so, we have taken steps to ensure that those without access to a printer or post box are not left out. We're even happy to accept completely digital designs from your pupils!
For regular updates about the competition, be sure to follow us on Facebook and Twitter. Remember to send us photos and videos from your Sketching Stars lessons too – we'd love to share them!
Read on for information on how to enter.
What you could win...
We'll be choosing two competition winners — one from KS1 and another from KS2. Both will get their hands on some out-of-this-world prizes, including:
£300 worth of stationery for their school
An official winner's certificate
A personal STAEDTLER goody bag.
Plus, two runners-up will also be chosen. They'll win:
£200 worth of stationery for their school
An official runner up certificate.
A personal STAEDTLER goody bag.
If that's not enough, this stationery pack is up for grabs — for every teacher who enters!*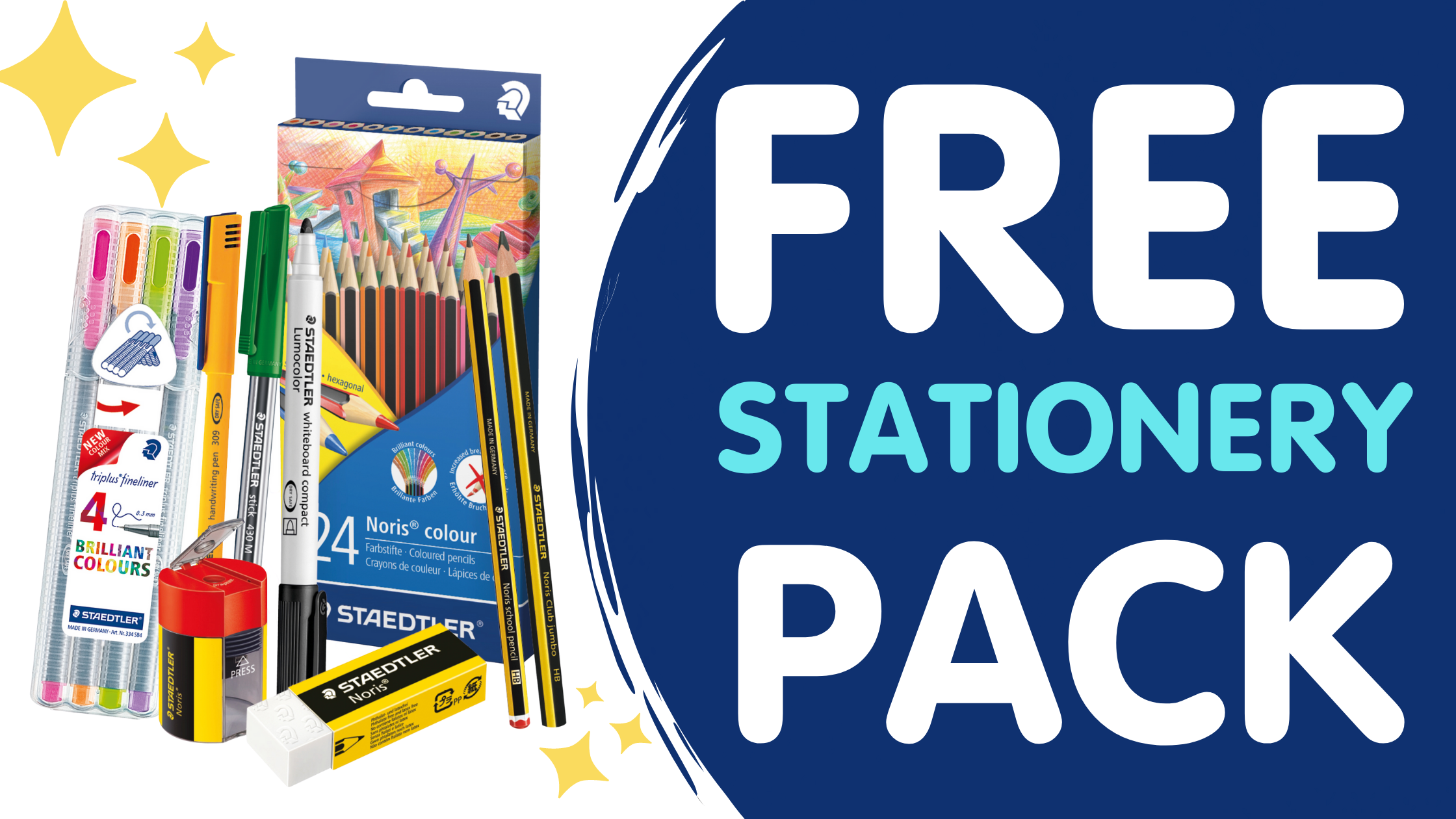 Sounds great, how do I take part?
1. First thing's first, you'll need to sign up for FREE here to be a Teachers' Club Member. You'll get access to this year's competition sheets — and much, much more.
2.  Dish out the challenge to your pupils. But you have a few options…
Option a) Print the competition sheets from the 'Resources' section and give them to your pupils to complete.
Option b) No access to a printer? This year, we're accepting freehand entries drawn on plain paper. Pupils submitting freehand entries must include a drawing of their alien, provide answers to the questions in the relevant worksheet, and most importantly, note their name, age and school.
Option c) if your class have access to online drawing tools, we'd be happy to accept completely digital submissions too. Just ensure that all of the relevant information is included, as mentioned above.
Bonus resources are also available for some additional alien fun, but you do not need to submit these as part of the competition.
3. Collect the children's competition sheets – make sure they've included their names!
4. Send us the entries before midnight on Sunday 22 November. Don't forget to include your Teacher's Slip (found at the bottom of the Competition Guide in the Members' Area) as your entries will be invalid without one!
Where do I need to send my pupils' entries?
By post:
Print off the Competition Guide, found under the 'Resources' tab in the Members Area. Cut out and fill in the Teacher's Slip and enclose it with the entries. Post the entries to:
Sketching Stars – STAEDTLER UK Ltd
31 Old Field Rd
Bocam Park
Bridgend
CF35 5LJ
BE SURE TO INCLUDE THE TEACHER'S SLIP OR YOUR ENTRY WILL BE INVALID!
By email:
Scan or take a photo of your entries and send via email in PDF, JPEG or PNG format to the below address. Sending multiple files at once? Try an online file sharing platform such as Dropbox or WeTransfer.
marketing.uk@staedtler.com
Please note: we can only accept your e-mail entries if you include your Teacher's Slip, or write your name, school name, school address and the email address registered to your Teachers' Club UK account in the covering email.
Entry is subject to our competition terms and conditions. Good luck!
*The first 300 teachers who enter will be sent a free stationery pack.